Wavefront Sensors
Advanced technologies we have created in the optical disc industries have been applied and developed.
Utilizing our optical technique, measurements, inspections, detections, etc. are offered in a form appropriate for the needs of each customer.
HM-1000 Transparent Object Thickness and Surface Waviness Measurement Unit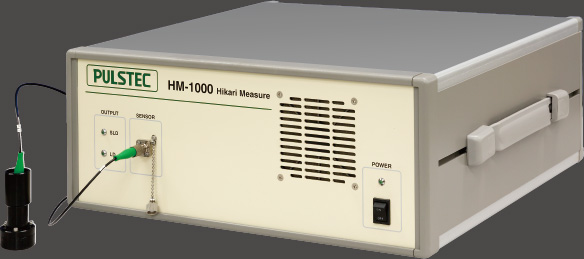 Features
Model HM-1000 is a non-destructive tomography device for glass and other transparent objects applying the OCT (optical coherence tomography image) method.
Up to 8 layers of thickness can be measured.
Measurement range covers 20μm to 17 mm with repeat accuracy of 2μm.
High-speed (250 cycles of measurements/second), high-precision measurements available.
Optimum system proposal can be offered even for curved surface or other special forms.
Applications
Thickness and wavefront measurements of transparent resin panels, films, etc.
Thickness measurements of flat panel display glass layer, resin layer and adhesion layer.
Measurement of clear tube internal diameter
Measurement of lens thickness
PWS-500 Small High-speed Wavefront Sensor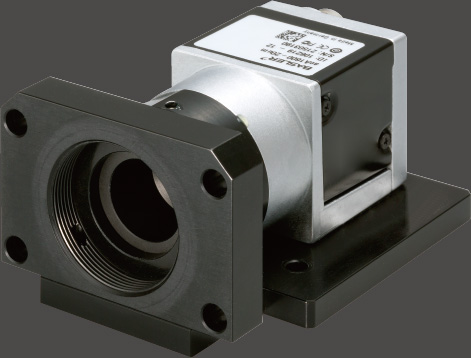 Features
PWS-500 is a high-speed wavefront sensor for evaluation and inspection of small optical system (3.5 mm or less).
A low-price wavefront sensor is now available as its application has been limited to small optical systems.
A variety of system integration can be proposed, including on-site adjustments or evaluation work, etc.
Applications
Development and/or verification of optical devices
Positional adjustment and quality control of lens
Monitoring of temporal/form changes of laser beams
Adjustment of optical pickup objective lens inclination
PWS-1000 High-speed Wavefront Sensor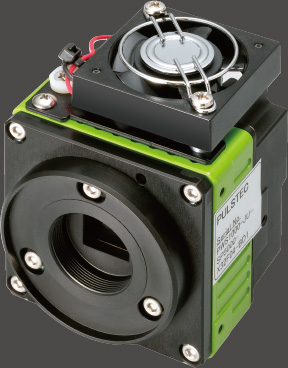 Features
This sensor provides real-time measurements of wavefront aberration application of Shack-Hartmann analysis method.
Data from this sensor has high correlation when compared with the interferometer measurement data.
High cost performance as compared with general type interferometer.
Applications
Wavefront evaluation of various light sources (alignment of optical components used in optical pickups, laser printers and other optical parts, for example)
Evaluation of transmitted wavefront and reflection wavefront of optical lenses and other optical components, etc.
Evaluation of various types of reflection wavefronts from mirror components. parts
Download
PWS-1000 Brochure
LC-1 Optical Lens Transmitted
Wavefront Measurement System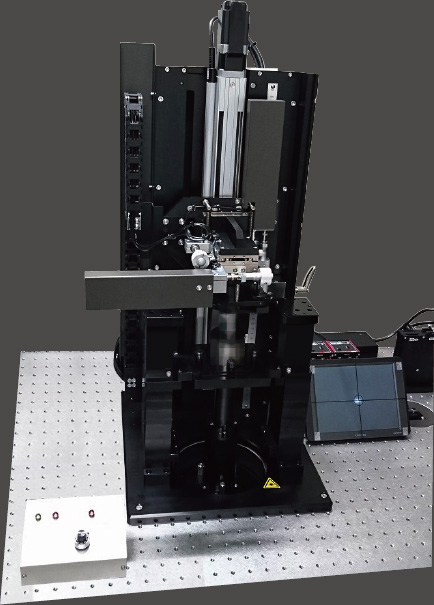 Features
This is a real-time measurement and evaluation system of transmitted wavefront through optical lenses applying a high-speed optical sensor.
Since real-time measurements can save the inspection time, it can be used for 100% inspection in the production line.
Convex and concave lenses can be evaluated by adopting the double pass method that uses spherical reference surfaces.
Luminous flux diameter conversion unit allows evaluation of - various types of luminous flux diameter lenses.
Applications
Wavefront evaluation of group lenses, set lenses and single lenses, which are generally used for digital cameras
Evaluation of wavefront of aspherical lenses
Evaluation of convex and concave lenses
Production Units for Optical Disc Evaluation Systems
Pulstec has been contributed to the development of various optical disc technologies. Pulstec offers solutions that match customers requests ranging from R&D through to mass production.